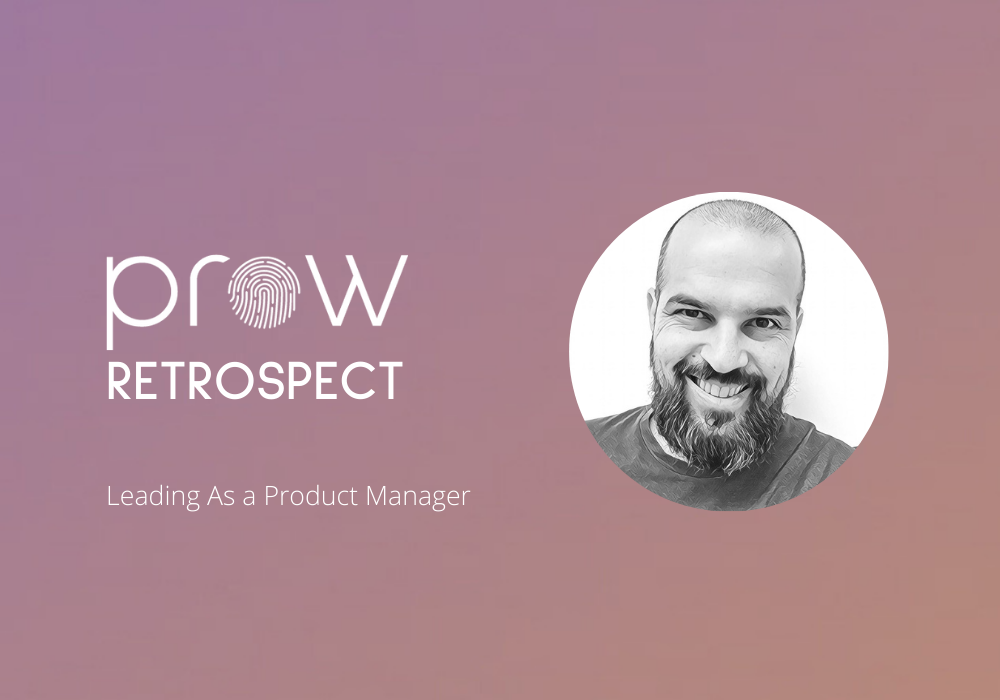 Prow in Retrospect: Alexandru Bleau on Leading as a Product Manager
Leading as a product manager means that you are given a lot of indirect influence, considering all the expectations everyone has of you. You are also the glue that puts everyone on the same page. So you have to build up processes and authority, trying to steer the train while getting on it at the same time. It's empowering to see when the team does not need you anymore.
Alexandru Bleau, Head of Alternative Monetization at Trivago
Big leaps in product development are forcing the product managers of today to become the product leaders of tomorrow. This is particularly interesting, as most product managers have little to no authority over the elements that contribute to the success of a product. Yet
69% of product people
perceive them to hold leadership roles, as they are responsible for the final outcome of the product.
Numbers. Data. Stats. Design sprints. Road map planning. Market assessments. Customer interviews. Are these all it takes to
turn product managers into product leaders
? Well, these skills will continue to serve product managers well, but they need to do more in order to close the gap on what's expected of them.
So, how does one activate the product leadership function? Let's hear it from Alexandru Bleau, Head of Alternative Monetization at Trivago, as he takes us on his product leadership journey.


Leading in Product Management: Your Burning Questions, Answered
Who are the members of your team?
We have a core team working on the product side — 2 developers and 1 data analyst. Sometimes, we will work with other members from the sales and operations side. But each team member has a different lead.


How did you earn the trust of the team?
Mostly through 1-on-1s. I sent each member a few questions beforehand and asked them to send back questions. Most questions were not related to work, we were just starting to know each other.


On a day to day, most trust is earned as soon as you involve the team from the start. Ask the team how to approach things because they are the experts on this and that topic. This way, they are more open to share, and you get to know how they are seeing the product as well.
How do you empower your teams when it comes to making decisions?
When you have an international company, you have a different approach to values and there are some that are unspoken. You cannot say "Take the initiative and make the decisions" without building all the processes to allow them to make these decisions comfortably.
It's important to allow access and transparency to all the tools and data that allow everyone to make a decision or not. And I always consider what happens if I am not in the room, and they have to make a decision — who do they go to?


Decision-making is tied to objectives, but some of them are not on paper. How do you tackle this?
There is no golden rule. There are a lot of business interests at stake, but also personal motivation. Or not knowing team members. I am very specific: When would it be the last day you expect to have data delivered? How critical is this? What are the dependencies here? I always ask questions to the point where I am annoying.
At one point, the team starts asking back — that's when you know you set the right objectives. We have healthy habits to reduce waste and work on high-value opportunities.


How do you process failure? Is it good or bad?
If we're building a nuclear reactor, it has high costs. If you're a B2B company, and you have an important contract, this is an important failure. At Trivago, we once installed our logo upside down, so we know that not everything we build is going to succeed. When we're building features, it might backfire, and we deal with this every day.


As long as it's a calculated failure, if it's a bet we took into account, it is acceptable. Failure without learning is not acceptable. Not accepting failures discourages teams to come up with creative solutions and think outside the box. We do expect failure, and we are always trying to keep these psychological boundaries within the team.

Leaders are born, not made — what would be your advice to people embracing the PM role?
Here is what helped me become a better leader and understand the PM role.


(1) My goal is not to please the stakeholders, the team, or me. You remove all ego, you have a high influence on everyone and could lead to bias for the rest of the team. If you put too much ego in it, you don't let someone share input, this can affect your decision-making. Whatever role you're in, your goal is to help the team deliver the most value possible. Short-term, some people might not be happy with you, but it's not something that has consequences in the long run. I am here to stimulate the team.


(2) Some leaders are naturally good at something due to the context, but you can become a better leader in time.

(3) Don't care about who got the idea or who gets to implement it. You need a selfless approach to making decisions, which is also very healthy in terms of thinking and judgment.

Be the Leader, See the Leaders
That's right — Prow 2021 is packed with product leaders looking to share their experiences to help others improve their product game. Explore the
agenda
of the conference and
join the discussion
— could be online or in-person at Faber. See you there?
*This article is based on an interview with Alexandru Bleau at
Prow 2020
.