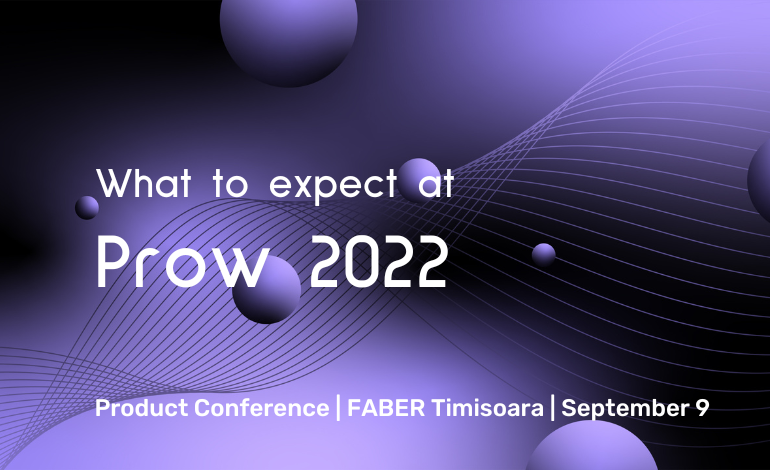 What to expect at Prow 2022
What to expect at Prow 2022
Prow is a technology conference with a focus on products, based in Timisoara, Romania, and the unique purpose is to bind the local tech community and provide the right context for expanding product skills, perspectives, and relationships.
The third edition of Prow will be focused on identifying the best approaches in building products, during market shifting conditions and setting a solid product vision for the future.
Prow is a hybrid conference, that is organised at FABER Timisoara, on September 9, and also, and we will stream this online, for everybody who can't join us.
Global product perspectives on stage
Come and take part in two days full of networking, you will be up-to-date with the latest news in product and international expertise. Also, you don't want to miss the prowfessionals that will take the stage. Let's introduce you to a few of our speakers, and show you why you have to come:
Ken Sandy - will introduce us to Overcoming cognitive biases- how to recognize and avoid the many belief and social biases, which flaw much human decision-making, in your role as a product manager. This talk will include emerging results from original research into this largely unaddressed area, case studies, and practical tips to use right away.
Mev-Rael - will explore How to minimise risks by 90% using innovation sprint, sales, and science and will present how to get confident in closing. Let's learn how to pre-sell and co-create with and for our potential customers, together!
Iryna Struk - will talk about The first 90 days as a product manager; she will cover how best to organise your first 3 months in a new company and set yourself up for a successful start, what you should do first vs what you should avoid in first months as a Product Manager.
Renata McCurley - will present a Product mindset- Bringing stakeholders along the journey to product thinking through relationship management and delivering results; we will explore the impacts of misalignment and methods to ensure that your stakeholders walk through the door to success with you.
Adrian Gal - will speak about Product development - The human value twist; the aim of this presentation is to put under the spotlight some basic principles that can be fruitfully cultivated between the various roles involved in product development.
Leon Barrett - will talk about his experience transitioning from a background in digital agencies and creating digital products and services to join Ring to work on managing doorbells and cameras. He will share one of Amazon's leadership principles - Working Backwards and how this is the key to creating solutions and features that solve real problems for users.


Meet all the product-minded peers in one place
We didn't forget about the workshop session! This part is dedicated to those of you who want to discover more and strengthen your product knowledge. Keep an eye on the agenda to be up-to-date with all the information:
https://prow.ro/agenda
Also, it is the perfect place for networking. You can connect with a lot of people from the product industry like product managers, product marketers, product designers, product developers, and business analysts.
Don't forget: communication is the key. Our PROWD partners are ready to sit and talk with you. You don't want to miss the opportunity to speak with representatives of the largest companies like Amazon, 123 form Builder, Cognizant Softvision, Orange, InnovXBCR, Unifiedpost, and many more. Did we make you curious? This is only a part of them!


Our products are getting jazzy as well
After a 2-day product marathon, we'll end our product explorations on a high note — with a concert by JazzyBIT. Get your ears ready for a loud jazz trio from Timisoara (Romania) which offers an energetic combination of jazz and rock, scattered here and there with blues, latin, and funk.
Do you want to know more product insights?
Prow is the perfect place to connect with what's new on the product scene. Check out the agenda and
get your tickets now.
We are excited to meet you all on set, at FABER Timisoara, on September 8-9!